Monetizing Push Notifications
Posted on 14-06-2019 by Wouter Groenewoud
If you have a smart phone I have no doubt that you've received many push notifications over the years notifying you about new emails, breaking news and Candy Crush invites from your mother. So I don't think it's necessary to explain to you what push notification are. But recently a new type of notifications has become widely available, Web Push Notifications.
While traditional push notifications required users to install an app, users can now subscribe to Web Push Notifications directly from their favourite browser. It didn't take very long for affiliate marketeers to see the amazing opportunities this new technology could offer. The past few months things have really started to take of and we're noticing a huge spike in partners who are working with push traffic right now.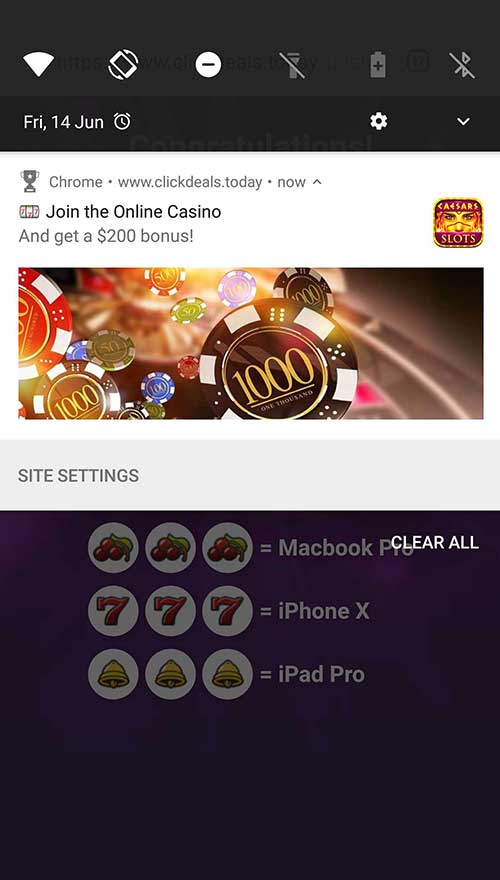 An example of a push notification on an Android smart phone.
How do Web Push Notifications work?
Any webmaster can implement push notifications on their website. A user visiting the website will be shown a popup requesting permission for the website to send push notifications. When the user presses "Allow" he will be subscribed to a database of push members.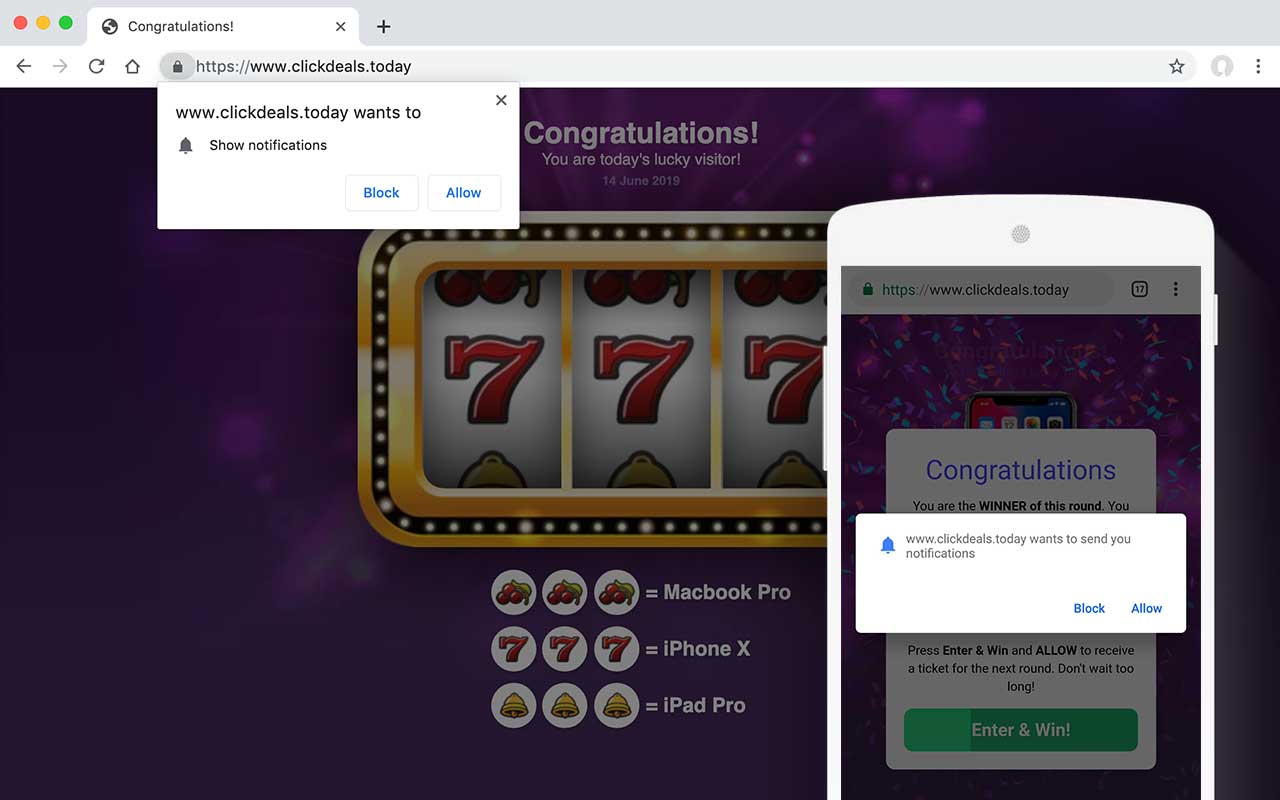 When the users clicks "Allow" he is subscribed to push notifications from the website.
The webmaster can now send direct messages to the user any time he wants, even when the user isn't browsing the website. The notification can be any kind of message and may also contain images. The best part is that the webmaster has full control over where the user can be sent anywhere when clicking on the notification. So not just to website where the user signed up on, but to any website! This means you can simply take your Traffic Company Smart Link or a Direct Link from your Offer Wall and use it for your push campaigns.
How to take advantage of this technology
There are two ways to work with push notification traffic. You can implement push notifications on your own website and create your own database of members. This does require some technical knowledge, and it can take a while before you have a sufficient amount of subscribed members.
Another option is to buy Push traffic from an existing database. There are many companies that allow third parties to create campaigns with their user base. The most common business model you'll come across is where you pay for every click (CPC). There are many networks where you can buy Push traffic for your Traffic Company CPA campaigns, for example:
Improving your CTR
A big advantage of Push traffic is that you can be sure that all traffic consists of real users (no bots). Also, since the notifications cannot be ignored the performance is very good. But still there are many ways to improve your Click-Through Rate (CTR) and Conversion Rate (CR).
Push notifications allow you to choose your own message, icon and image (among other things) and this gives us a great opportunity to optimize our campaigns. We always recommend matching your notification with the offer you are sending the user to. Also try not to spam the user by sending the same message over and over again. If you do this people will start to ignore the messages and might even unsubscribe from your notifications all-together!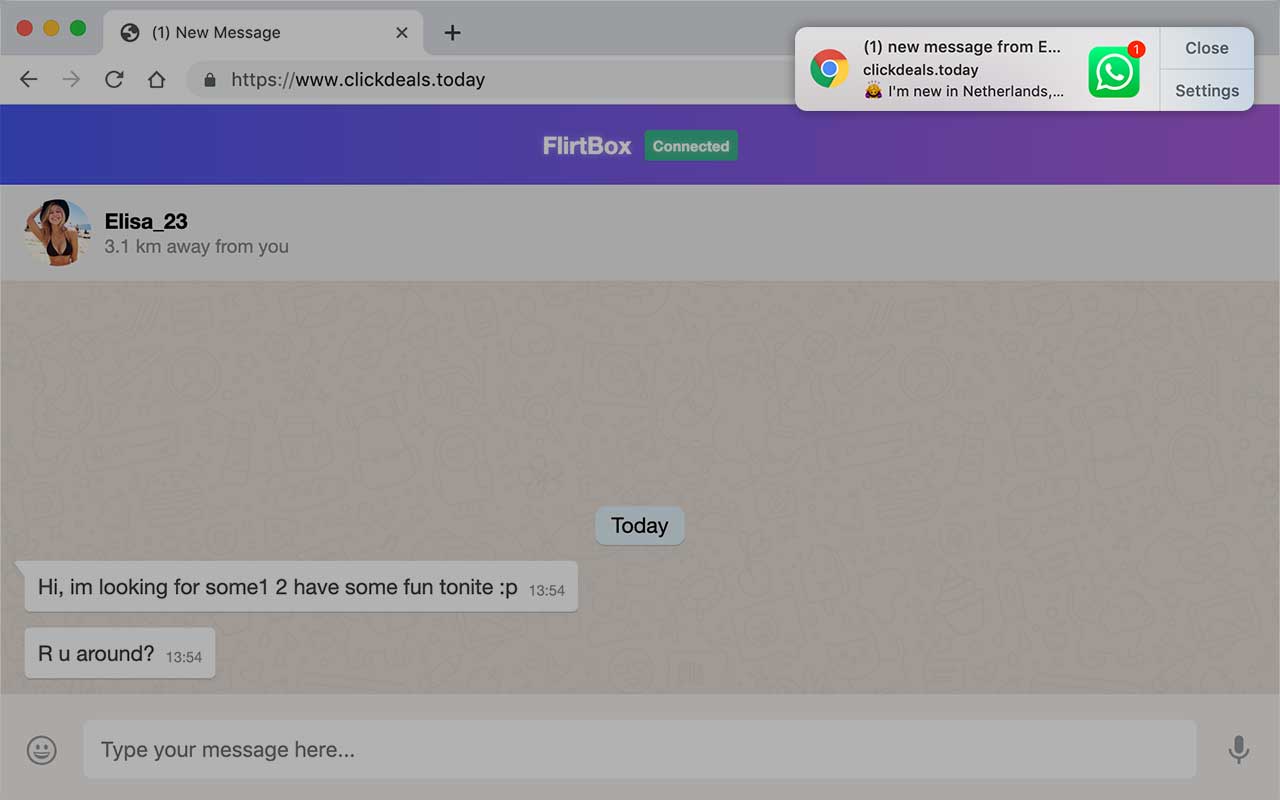 An example of matching a "New message" notification with a chat-themed dating offer.
If you would like to get started with push traffic, we always advice to contact your Account Manager first. They will be able to give you some great tips, point you to the right CPA offer and might even set you up with the right marketing material to get you off to a good start.